I have worked as a sculptor since my sculpture degree 1986-89 at the Norwich School of Art , mainly modelling in clay and plasticine , but also carving in stone, wood , plaster, polystyrene and expandable foam.
Originally from Germany, I have settled in a small village near Oxford, where I work under my gazebo and in my conservatory studio , where also teach sculpture.
As you can see from my website gallery, the size of my sculpture varies – from domestic small figures for windowsills and coffee tables to middle sized (60-90 cm tall) garden sculptures, and large public and private commissions 200 cm high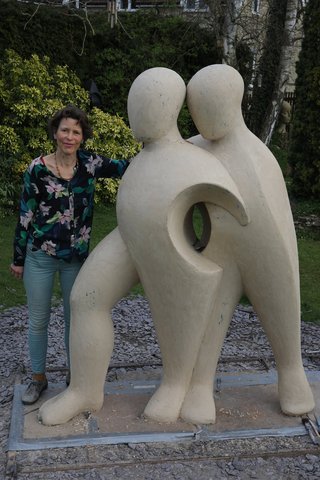 The
retail prices
can be seen beside the titles and dimensions of individual sculptures.Delivery is not included in the price. I have got a good working relationship with a courier company, and a separate delivery man for the London area.
For more information or sale enquires please email:
beatricemhoffmanatgmaildotcom
or phone:
01865-391502