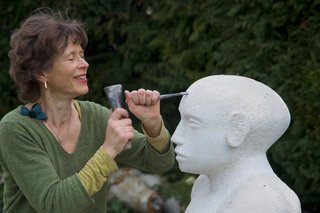 OPEN

STUDIO

with

OAW

site 49 and 50
Two weekends 6 – 14th of May
Email for studio visits at other times during the year
2017
On the 23rd of April, I have been accepted as an , the Royal Birmingham Society of Artists
2 – 17th of May
6-14th of May Open Studio, sites 49 , Oxford
24 June – 8th of July: , Magdalen College Oxford
July: Mall Gallery, London, Open
29th of July – 10th of September
2016
Beside finding my sculptures in The Art Agency in Surrey , Buckenham Gallery in Suffolk, Burford Gallery, and Francis Isle in Kent, you can see some of them at the following short events and Sculpture Gardens:
30 March – 30 April , Magdalen Road, Oxf old
April/May , Oxford
Weekends of 1415 – 21/22nd of May:
3-19th of June
18 June – 3rd of July: , Magdalen College Oxford
First of July – 30th September
30th of July – 11th of September
November-December
My sculptures are sold through galleries, sculpture gardens and Open Studio and are kept in private collections in Britain, Canada, the US, Germany and Holland. They range in in size from the small to the monumental, between 25 and 230 cm height.They are mainly created in clay (sometimes carved in wood/stone or polystyrene ) and cast in bronze or bronze Resin.
The edition varies between 5 and 9 for bronze, and 9 to 50 for bronze resin.They are suitable for both indoors and outdoors.