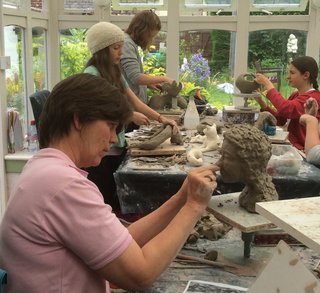 Parents and children (8+) can attend sculpture workshops together. Both types of children's workshops , on Saturdays or in holidays, allow for that. Depending on the child to teenager, you can decide to sit together, or at opposite ends of the room.
As a teacher,I encourage children and adults to share the studio, as I find that all students benefit from it. The children are calmer, inspired by adults who concentrate more, and for that reason they apply themselves more to their work ; the adults on the other hand, feel encouraged to tackle a new project, as they see the children around them doing it with less hesitation.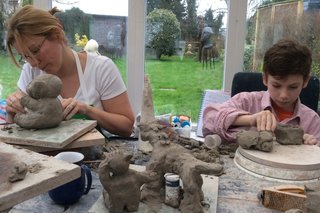 Some children work much better with their parents around, feel reassured by their presence, and want them close by, a least to start with ; others need their own space. It can be an enriching activity to share with a teenager that age where they usually do not want to join in family activities anymore – after all, sculpture allows for very individual ways of responding.
Even if parents help their child to start with , this should last for only a short time, as the adults pay and attend to make their own sculpture.