I teach in my
home and studio
in Garford
OX13 5PF
near Oxford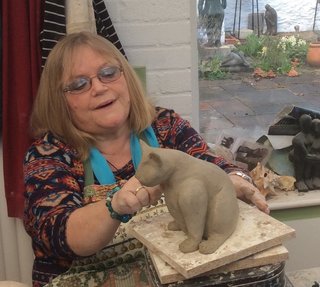 The sculpture
groups are small in numbers
( 6 minimum, 8 maximum) , to allow for individual attention and guidance, and to allow for socially distance space to prevent Corona infections; the teaching style makes the sculpture workshops
suitable for all levels – from beginners to accomplished artist
.
The three hour sessions
costs
between £25 and £30
Taster sessions for Newcomers
:
New students can try out a class to see if sculpture is for them, by joining an ongoing class with vacancies.
Gift Vouchers
for sculpture sessions can be offered, with a hand written sculpture postcard sent after booking.
For suitable dates, please contact me by email or phone, and I will research my
google calendar
Replacement sessions
for termly students can be organised by joining another class ( though there is no guarantee of a vacancy ) – email me two days before the class you would like to join ( you can see availability under "
dates
")
Holiday and Sunday AM sculpture workshops are
family friendly
.
Weekday and Saturday sculpture workshops are only addressed at
adults
only, and some workshops are mainly addressed at
children/teenagers
Regular Classes
:
Monday evenings
,
Wednesday
and
Thursday morning
I teach adults students of all abilities , including complete beginners, at my studio,
All-day
Fridays in Daventry
, using the A-Level Art room of the Parker E Act Academy to accommodate my adult sculpture students (and some of their staff or pupils at times)
Saturday afternoons
for children and teenagers ( and adults too)
Within the nurturing and friendly environment of the group, the emphasis lies on enjoyment, self-expression and creativity, whilst building up ceramic skills and sculptural competence and confidence. Concentration, patience and deep involvement with one's work I consider a beneficial side effect of the enjoyment sculpting can provide.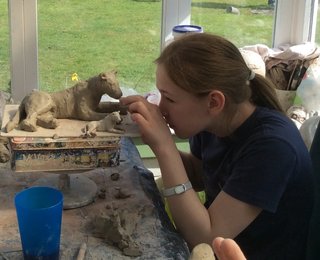 Holiday Workshops
Holiday Workshops
consist of a three sessions mini course.
Adults/parents are welcome to join as paid students
. Alternatively, they can wait in the garden or comfortable living room with
WIFI
, if travelling to and fro takes up too much time, or their child needs initial reassurance.
Holiday sculpture workshops can also be offered as bespoke workshops, with a minimum of six students.
With Children's Workshops like the Sundays and Holidays, I tend to start first time beginners on a more structured project of making an animal. Hereafter, the choice lies with the individual , be it plants, vessels, human figure, head, abstract forms, using the learning materials and other student's sculptures as a stimulus.
Individual Tuition
or groups with less than five students
One-to-One Tuition
is possible by arrangement on Mondays or Tuesdays, or at odd other times; it can last between one hour, and a whole day.
It is also suitable for well experienced sculpture students working by themselves in their homes, and bringing their sculptures needing feedback, pointers to new sources of inspiration, constructive criticism or suggestions for improvement.
One-off Workshops
All-day Workshops on
Saturdays
", weekends or for3-4 days, see below. They need to be organised with the help of a schedule planner, to find a mutually convenient day(s).
Residential Courses
Residential Courses
, an ideal way for a short break away, combining sculpting with culture (Oxford), nature ( Ridge Way, Thames Path) and the beautiful landscape and market towns of the Cotswolds .
Residential sculpture courses courses are offered for those living further afield, or to anyone preferring a more intense involvement with sculpture; they are scheduled on demand, provided that there is a minimum of five students. They can last between two and five days, either own weekends or within the week.