Informative Links
Sculpture Workshops in progress
Sculptures by adult students
;
Directions
to the Randolph Building of the Parker Academy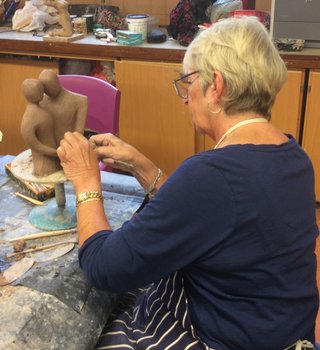 The teaching and sculpting takes place in the newly built Art room/art department of the Parker
E-ACT Academy
, since September 2017 in the
nearby Randolph Building in Ashby Road
" Daventry .
The
group size
varies between 6 and 10 students, so plenty of attention and instruction can be offered; the classes are friendly and informal.
Sometimes, an individual
GCSE
or A Level pupil or teacher join the class.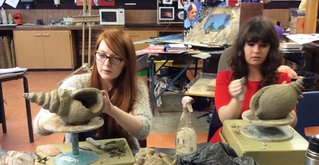 Some of the sculpture students have been coming for ten years, others have recently joined. The level of experience and ability for students ranges from the inexperienced to the accomplished artist. Most newcomers, however, are complete beginners and have never touched clay before.
If you are a new student , you might want to book a before deciding to commit.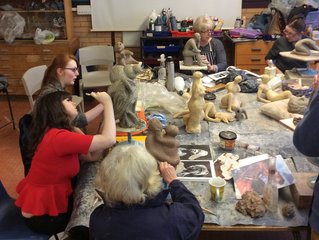 : £50 for the taster day for newcomers; otherwise £65 for single days
This fee is reduced to £55 per session when students commit to coming for every single session of a whole term, and pay for the (half) term in advance .
There are around 6 sessions per term,
Clay and firing is
NOT
included in the fee, and is charged at cost.
The class runs if a minimum of seven students commit for the whole term; only then individual days are on offer, provided they are available.
If you are a new student , please enquire about Taster days!
: Weekly or fortnightly Fridays, from 9.30 – 2.45
Parking
is in front of the school or in the Phoenix youth club just below. You need to go the main reception (on the right hand side of the school, as you face it), in order to get a badge to be allowed it; the first few times a pupil will show you the way to the art department.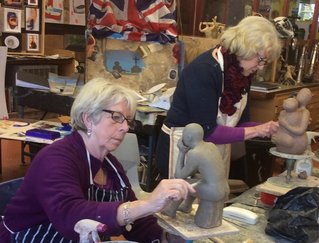 :
I have an individualised approach to teaching, similar to art schools, with every student picking out their own personal project – and being inspired by the variety of other students' work.
My main emphasis with teaching is on nurturing the imagination, developing personal forms, ideas and motivation and thereby improving ceramic sculpting techniques.The teaching approach is twofold, part technical, part therapeutic:
- acquiring confidence through skills, practice, understanding and observation,
- simultaneously learning to trust the creative and imaginative process, to the degree of being "guided" by both the sculpture and the quieter voice of one's feelings, inner vision and intuition.
:
By request , I can bring with me relevant visual information to start a sculpture. At my studio near Oxford, I have built up an extensive library of both books and laminated images containing
1. sculptures from different historical periods
2. sculptural instructions (making a head, a figure, an animal )
3. Photographic references
Furthermore , I have assembled a large collection of realistic , (Schleich) toy animals; and I have created an online gallery of images on this website that supports the teaching. We also use the internet on the iPad a fair bit to research various images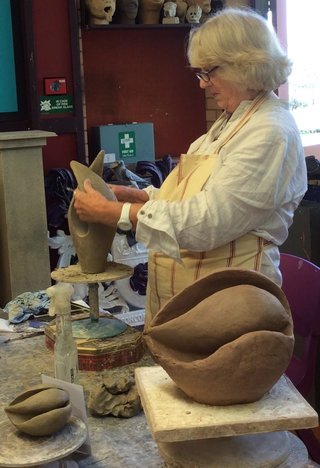 are for that reason very varied: Imaginative and portraits heads, animals, human figure or abstract forms are all important elements of the teaching.
:
Many creative, aesthetic, observational and practical skills relating to ceramic sculpting will be learned informally, as the needs arise:
– Understanding the nature of clay, its behaviour towards gravity, wetness and dryness
- Armatures and support structures, dealing with gravity and balance
- Precise observation and manipulation of planes and outlines when accuracy is the goal
Awareness of proportions, plane and curvature in both representational and abstract works
Tool use, surface textures and fine motor skills
- Bonding, modeling, carving
- Coil, slab and solid sculptures
Creative decision making
Exploring sculptures from various historical epochs, or famous sculptors
Some reminders and practical help can be found under "Student Resources" and "Sculptural History"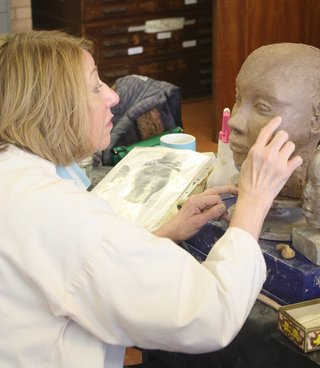 :
I studied for a teaching degree 1982-84, later trained at the Norwich School of Art 1986-9, and received a BA for Fine Art/Sculpture and then completed a post graduate Diploma as an art therapist 1989-90 in St Albans.
From 1991 onwards, I taught sculpture in many settings: day centres, ( primary secondary and special) schools, art colleges and galleries, both freelance, and part time employed.
Since 1992 I run sculpture classes from my studio