I teach in my home and
studio in Garford

OX13 5PF
near Oxford:
Currently, I teach adult students on regular Monday, Wednesday and Thursday mornings groups and Monday evenings.Children can join as part of a bespoke family workshop.
I am a trained art therapist, and have taught sculpture since 30 years as a
sculpture tutor
in schools, galleries, day centres, colleges, care homes, other people's homes.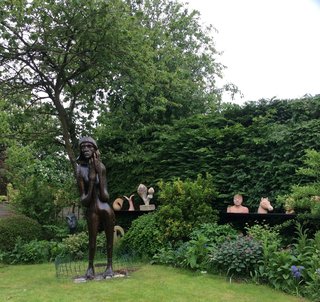 My
studio
in the small village of Garford just outside Oxford is an inspiring and relaxing space, full of light, set within an enclosed garden and private courtyard filled with sculptures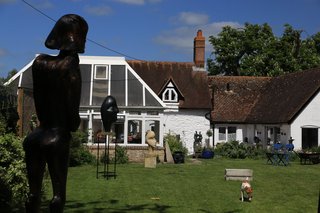 :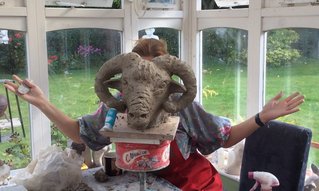 I have an individualised approach to teaching, similar to art schools, with every student picking out their own project – and being inspired by the variety of other student's work.
There are many fired and unfired sculptures by myself and students positioned in the studio, courtyard, garden and kiln room, giving inspiration and courage to start a project.
To further help finding relevant visual information to start a sculpture, I have assembled an extensive library of laminated images and have assembled a large collection of realistic toy animals and plaster or resin casts that serve as teaching aids for any possible project.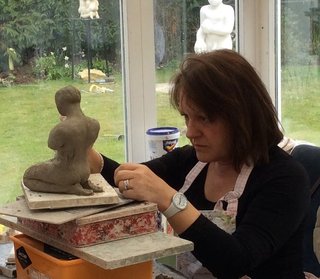 Student's sculptures
are therefore very varied: Imaginative and portraits heads, animals, human figure, abstract forms or vessels are all important elements of the teaching.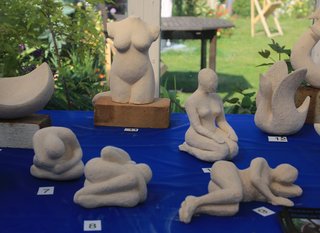 The main emphasis of my teaching however will be on nurturing the imagination, developing personal forms, ideas and motivation and thereby improving ceramic sculpting techniques.The teaching approach is twofold:
- acquiring confidence through technical skills, tool use , understanding of form and observational experience,
- simultaneously learning to trust the creative and imaginative process, to the degree of being "guided" by both the sculpture and the quieter voice of one's feelings, inner vision and intuition.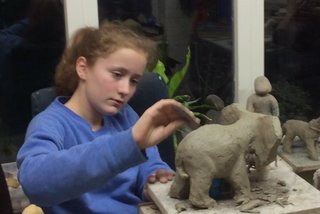 For this reason and purpose, the classes, whilst being sociabable and friendly, also allow for personal space, be it reflective, meditative or concentrating, to enable students to get deeply involved with their own sculpture.
I teach students of all ages from 8 years onwards.
Holiday and Sunday Classes are family friendly, and welcome both adults ( often parents) and teenagers or children;
Weekday and Saturdays are more tailored towards adults (or mature teenagers.)
The size of the group varies between five and eight students.
The level of experience and ability ranges from inexperienced to accomplished artist. Many newcomers, however, have never touched clay before.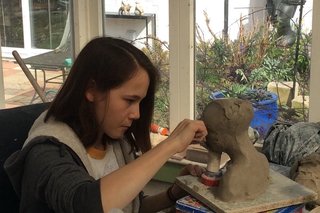 Many creative, aesthetic and
practical skills
relating to ceramic sculpting will be learned informally, as the needs arise:
– Understanding the nature of clay, its behavior towards weight and wetness
- Precise observation of planes and outlines when accuracy is the goal
- Awareness of proportions, plane and curvature in both representational and abstract works
- Armatures and support structures, dealing with gravity and balance
- Tool use, surface textures and fine motor skills
- Bonding, modeling, carving
- Coil, slab and solid sculptures
- Creative decision making
If you are interested in finding out more
, you can use this website to find out more about
-
Practical details
like cost, dates, booking, directions, parking, collecting fired sculptures and reviews by other students you can find under Workshops Information
-
costs
:
– and
directions
on the day
– or you can
contact
me!*