Informative Links:
1.Location of Studio in Garford
2. Directions
3. Parking
4.Testimonials
5. Arrival at the first session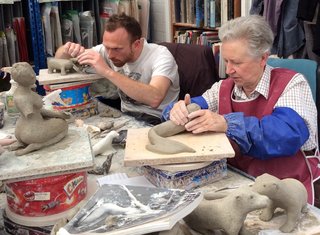 If you are new to sculpture, or to my teaching, you are very welcome to join for either two taster sessions before making up your mind to join for a full term. Most people joining my classes are complete beginners, and sofar , always loose their trepidations of starting something new within one or two hours or starting to sculpt.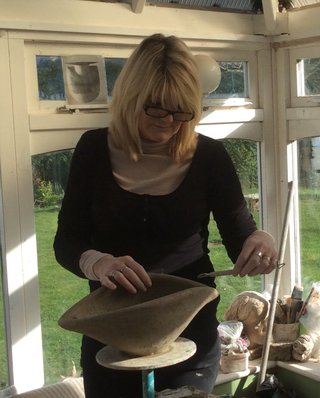 I recommend a minimum of , rather than one, as this allows for the two stages of sculpting clay:
wet clay
modelling in the first session,
dry clay
carving and refining in the second session ( with some time for the sculpture to dry in between). As they are two very different skills, only the two sessions give the full experience of sculpting with clay , and result in a more satisfying, finished first sculpture.
The easiest option is for newcomers to join already running classes, that have a vacancy on various days ( please check for
DATES
in bold writing!) , on Monday evenings, Monday, Wednesday and Thursday mornings, and sometimes Saturday afternoons or school holidays.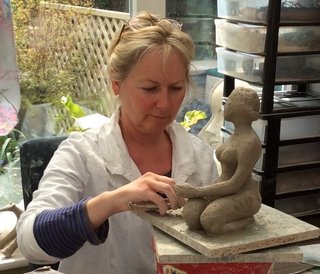 Currently all my classes are filled, however
1. some vacancies turn up after the end of term
2. and should a waiting list of five to ten students come together, I would find a agree a mutually convenient time to find time for two taster sessions, and possibly a termly group
3. Similarly, I run one-off weekend intensive workshops based on demand, i.e. a waiting list
for sculpture sessions can be offered to friends and relatives. once booked with
BACS
, I can send a hand written sculpture postcard confirming the gift voucher, to be given as a present. For suitable dates, the person receiving the gift can contact me by email or phone, and I will research my
google calendar
Alternatively, you might prefer a one-off experience , or you are coming from further away, which would make an
intensive sculpting day/weekend or residential course
e the best option. These are more difficult to organise, and for that reason it is the best if you get in touch, I put you on a waiting list, and get back in touch with you a week before the workshop to either confirm or cancel the workshop. Booking is by sending cheque, rather than paying
BACS
The date of the workshop will be communally agreed upon again using
Doodle
a shared electronic diary.
Or create a with your friends or family, and I will runthe workshops (minimum student number is six) on a date that suits us both