:
The
group size
varies between 5 and 8 students, so plenty of attention and instruction can be offered; the classes are friendly and informal. Some students are taught one-to-one.
The teaching and sculpting takes place in a studio that is a light conservatory – in summer there is also space underneath a pergola with shading. Both are
surrounded by a beautiful and peaceful garden with many sculptures, trees and much birdsong.
The level of experience and ability for students ranges from inexperienced to accomplished artist. Many newcomers, however, have never touched clay before.
1. Currently there are regular classes running on :
Monday evenings
Monday Mornings
Wednesday mornings
Thursday mornings
2. If you are a new student , you might want to book two trial sessions before deciding to commit to a termly regular group. I would offer you two sessions on my regular groups.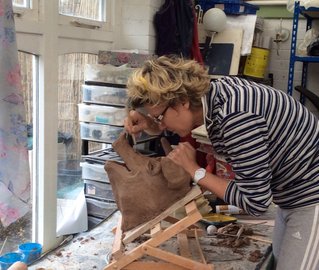 :
I have an individualised approach to teaching, similar to art schools, with every student picking out their own personal project – and being inspired by the variety of other students' work.There are many fired and unfired sculptures by myself and students positioned in the vicinity, giving inspiration and courage to start a project.
My main emphasis with teaching is on nurturing the imagination, developing personal forms, ideas and motivation and thereby improving ceramic sculpting techniques.The teaching approach is twofold, part technical, part therapeutic:
- acquiring confidence through skills, practice, understanding and observation,
- simultaneously learning to trust the creative and imaginative process, to the degree of being "guided" by both the sculpture and the quieter voice of one's feelings, inner vision and intuition.
:
To further help finding relevant visual information to start a sculpture, I have built up an extensive library of laminated images containing
1. sculptures from different historical periods
2. sculptural instructions (making a head, a figure, an animal )
3. Photographic references
Furthermore , I have assembled a large collection of realistic , (Schleich) toy animals; and I have created an online gallery of images on this website that support the teaching.
are for that reason very varied: Imaginative and portraits heads, animals, human figure or abstract forms are all important elements of the teaching.
:
Many creative, aesthetic, observational and practical skills relating to ceramic sculpting will be learned informally, as the needs arise:
– Understanding the nature of clay, its behaviour towards gravity, wetness and dryness
- Armatures and support structures, dealing with gravity and balance
- Precise observation and manipulation of planes and outlines when accuracy is the goal
Awareness of proportions, plane and curvature in both representational and abstract works
Tool use, surface textures and fine motor skills
- Bonding, modeling, carving
- Coil, slab and solid sculptures
Creative decision making
Exploring sculptures from various historical epochs, or famous sculptors
Some reminders and lessons can be found under "Student Resources" and "Sculptural History"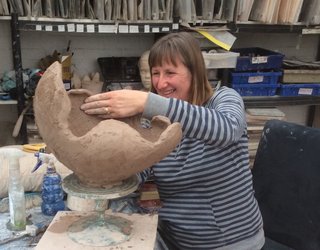 :
I studied for a teaching degree 1982-84, later trained at the Norwich School of Art 1986-9, and received a BA for Fine Art/Sculpture and then completed a post graduate Diploma as an art therapist 1989-90 in St Albans.
From 1991 onwards, I taught sculpture in many settings: day centres, ( primary secondary and special) schools, art colleges and galleries, both freelance, and part time employed. I worked as an art therapist for ten years.
Since 1992 I run sculpture classes from my studio
Informative Links
:
Location of the studio
;
Coming for the first time for
two Taster sessions
;
Practical details
like cost, dates, booking, directions, parking, collecting fired sculptures and reviews by other students you can find under Workshops Information*
Work in progress from regular sculpture courses:
Monday Mornings
Monday evenings
Wednesdays
Thursdays
Individual Tuition
Sculptures by adult students
;
Exhibitions by students