Booking
:
by
BACS
, once you checked for available space by email
beatricemhoffman@gmail.com
) , and there are enough students to go ahead with the course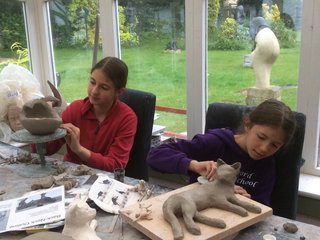 Before Corona, I taught children and teenagers above the age of 8 in the .
The workshops are family friendly , and allow adults to join as students.
For older teenager 14+ , adult workshops are equally suitable to attend. They can use the session to improve their course work for their
GCSE
or A Level – or simply for their enjoyment and self expression.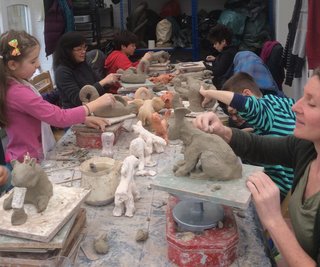 The varies between 5 and 8 students, so plenty of attention and instruction can be offered; the classes are friendly, , and conducive both to good relations, and deep involvement with the sculpting process. If your child can bring a friend, it probably makes them feel more at ease – but they can come alone too, and many do.The sculpting is fun, helps concentration and focus, and both the process and the resulting sculpture help increase self confidence.
The , and some adults join the classes, as I find the mixture of ages and maturity helpful to the teaching for all students (provided of course he adults enjoy the company of the young).Adults are encouraged by the confidence with which the children approach the challenge of sculpting; children are inspired that even adults enjoy the sculpture, and it adds seriousness to the enterprise of learning to sculpt; and children behave better and are a bit calmer in the presence of another adult, beside the teacher .And of course, it can be enriching for parent and child ( especially teenager) to take a challenge and engage with art together.
can join the class as paying students; or if they live to far , they can wait for their children while working on their laptop in the living room, or garden.
I have been police checked in various schools I worked in; I have got third party insurance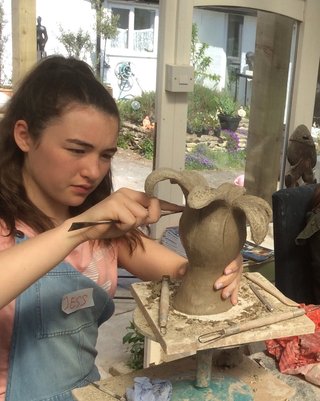 :
I have an individualised approach to teaching, similar to art schools, with every student picking out their own project – and being inspired by the variety of other student's work.There are many fired and unfired sculptures by myself and students positioned in the vicinity, giving inspiration and courage to start a project.
To further help finding relevant visual information to start a sculpture, I have built up an extensive library of laminated images containing
1. sculptures from different historical periods
2. sculptural instructions (making a head, a figure, an animal )
3. Photographic references
Furthermore , I have assembled a large collection of realistic , (Schleich) toy animals; and I have created an online gallery of images on this website that support the teaching.
for that reason are very varied: Imaginative and portraits heads, animals, human figure or abstract forms are all important elements of the teaching.
My main emphasis with teaching is on nurturing the imagination, developing personal forms, ideas and motivation and thereby improving ceramic sculpting techniques.The teaching approach is twofold:
- acquiring confidence through skills, techniques, practice, understanding and observation,
- simultaneously learning to trust the creative and imaginative process, to the degree of being "guided" by both the sculpture and the quieter voice of one's feelings, inner vision and intuition.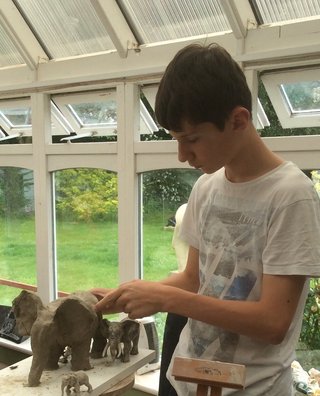 My Background:
I have been running classes for children and teenagers since 1991, and have got a background in art therapy and teaching:
Unfinished studies in Germany for teacher for children with behavioural challenges (1982-84) ; fine art BA degree sculpture at the Norwich School of Art; post-grad degree in art therapy ( 1991) ; working PT as an art therapist in a special school 2001-2010 (Round Oak); and working PT as a sculpture tutor in a private girls schools ( Kings High Warwick) 2010-11; and in a special school 2011-13 (Billing Brook Northampton).
I have been teaching ceramic sculpture freelance continuously since 1991 in schools ( primary secondary and social ) and (art) colleges , day centres and always at my studio.
Parents: please remember
1. to bring on the last session of the sculpture course some
cash for paying the call and firing
;
2. and
take a photo of your childs sculpture
, to identify it later , when fired ( I don't always remember which of several tortoise is yours)
Informative Links
:
- Work in progress from children/teenager sculpture courses:
Saturdays
and
holidays
-
Location of the studio
;
-
Dates
-
Birthday party workshops
;
-
Sculptures by young students
;
-
Exhibitions by students
-
Practical details
like cost, dates, booking, directions, parking, collecting fired sculptures and reviews by other students you can find under "Workshops Information"