Informative Links
:
- Teaching References
- Schools Gallery
- Visiting Tutor Gallery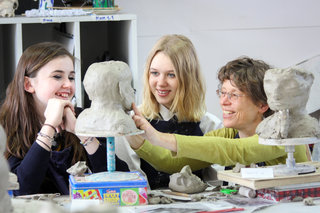 - I studied in Munich/ Germany to become a teacher for children with emotional/behavioural challenges – broke these studies off after two years (1982-84)
- I trained at the Norwich School of Art 1986-9, and received a BA for Fine Art/Sculpture; then completed a post graduate degree as an art therapist 1989-90 in St Albans.
I was PT employed as a sculpture teacher
- at the Kings High School in Warwick, teaching Year 8 pupils in 2010-11
– at the Billing Brook Special School in Northampton teaching all ages from 2012-14
I was PT employed as an art therapist:
- 2001-2010 at the Round Oak Special School
1990-1993 I have worked as a sculpture tutor in day-care centres in Norwich, Great Yarmouth and Dereham, with students that faced physical and mental challenges
In 2017 working with youngsters for the Marsh and Micklefield Big Local Project, near High Wycombe
I worked as an
artist-in-residence
at the Chenderit Arts Specialist Highs school 2013-14, creating three large polystyrene abstract sculptures shown in the schools gallery (Michael Heseltine Gallery).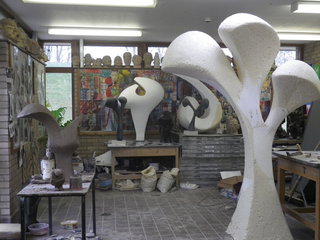 I teach as a
visiting sculpture tutor
in various places close to Oxford, or even abroad.
I have taken ceramic sculpture and carving workshops into
schools
since 1991, to primary and secondary, private and state, and special schools, teaching pupils of all ages, and abilities . Most recently I gave a
workshop to

GCSE

students of Cokethorpe School near Whitney
(reference from the Head of Art Ms Williams)
I have offered
INSET training in ceramic sculpture
courses for keystage 2-4 ., most recently in September 2015 in my studio (Reference from the Head at Blewbury Primary Ms Marion Mills))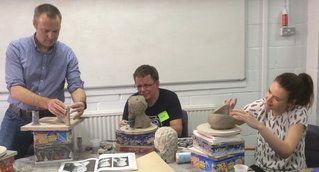 I bring sculpture to
offices
, offering a hands-on creative and shared experience that nurtures relationships within the work place, and instills a positive common culture.
In
private homes
, or at my own studio, I offer tailor-made sculpture workshops to mark special occasions, for
family gatherings
or for
birthdays
,